Fundamental perspectives
In order to adhere to the principles of sound management based on a high degree of self-discipline with the background of fiduciary spirit and establish strong credibility from society, Sumitomo Mitsui Trust Panasonic Finance Co., Ltd. commits itself to enhancing its corporate governance system in line with the basic policy for corporate governance of Sumitomo Mitsui Trust Group, with the objective of supporting sustainable growth and medium- to long-term enhancement of the corporate value of the Group.
Board of directors and auditors
The board of directors of us, consisting of 13 members, discusses and decides important matters including basic policies of our business management and supervises execution of business based on basic policies, etc. on Group's business management provided for by Sumitomo Mitsui Trust Holdings, Inc.
We are a company with company auditors. The board of auditors consists of four auditors (including three external auditors) and each auditor audits directors' performance of their duties by attending board meetings, examining business performance and property, etc. pursuant to policies provided for by the board of auditors and assigned duties.
Auditors audit directors' execution of duties by attending board meetings and other important meetings, interviewing Directors related to reports on execution of their duties, reading important documents, etc. In addition, independency of audit function has been reinforced by external auditors accounting for the half of the board of auditors.
Relationship diagram of internal control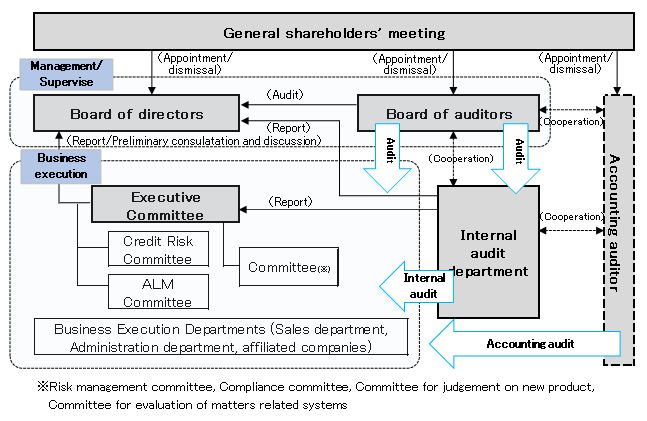 List of pages related to company information