As a member of Sumitomo Mitsui Trust Group, Sumitomo Mitsui Trust Panasonic Finance Co., Ltd. not only adheres to the principles of sound management based on a high degree of self-discipline with the background of "Fiduciary Spirit," but also considers active contribution to establishment of sustainable society to be social responsibility, and under the "basic policy on social responsibility of Sumitomo Mitsui Trust Panasonic Finance (the sustainability policy)," aims to enhance our own sustainability along with the society and improve corporate value.
Basic policy on social responsibility
(sustainability policy)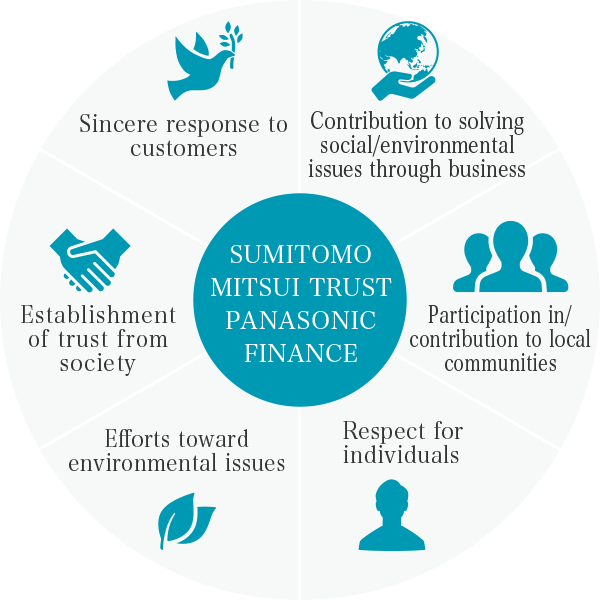 1

Contribution to solving social/environmental issues through business

We make efforts to solve social and environmental issues through our main business activities from the global perspective.
We work on development of new business models and innovative products/services fusing various functions unique to trust bank groups to solve social and environmental issues.

2

Sincere response to customers

We make efforts toward careful explanation and proposal in order for customers to fully understand our products/services and promptly reflect opinions we receive from customers in improvement of our business and enhancement of our products/services.
We ensure strict management of customer information.
We work on education/awareness-raising activities in cooperation with educational institutions, governments, NPOs, etc. in order for our customers to rationally take the initiative in selecting financial products for sound asset formation.

3

Establishment of trust from society

We strictly observe all laws, regulations, rules, etc. and perform sincere and fair business activities without violating social norms.
We establish healthy and normal relationship with stakeholders and fulfill our responsibility as a member of society including fair competitions, proper disclosure of company information, etc.
We maintain firm attitude toward antisocial forces which threaten peace and safety of civil society and work on prevention of unfair use of financial functions by organized crime.

4

Efforts toward environmental issues

We aim to establish a low-carbon society, a society in harmony with nature that nurtures biodiversity and a recycling-oriented society and make efforts to solve issues that hamper realization of these societies through our main business in cooperation with various stakeholders.
We work on reduction of direct environmental burden generated by our own business activities such as energy saving/resource saving. We exert our organizational power.

5

Respect for individuals

We respect human right of individuals, various sense of value in all of our business activities and eliminate unfair discrimination. We make efforts to achieve safe and comfortable working environment and respect various work styles for our employees to achieve work-life balance.
We work on ability development and promotion of healthy mind and body of our employees .

6

Participation in/contribution to local communities

We aim at vitalization of local communities and creation of affluent life environment in cooperation with various partners through business activities, educational and cultural projects and other Sustainability activities in all communities where we operate our business.
Environmental practices
Sumitomo Mitsui Trust Group is making environmentally conscious efforts.
1. Response to the control of CFCs
We place emphasis on the lease of equipment using CFC-free coolant and will contribute to the spread of its use. In addition, we are making efforts to collect CFCs from equipment using CFCs after the expiration of leasing period and dispose them in a proper manner.
Disposal scheme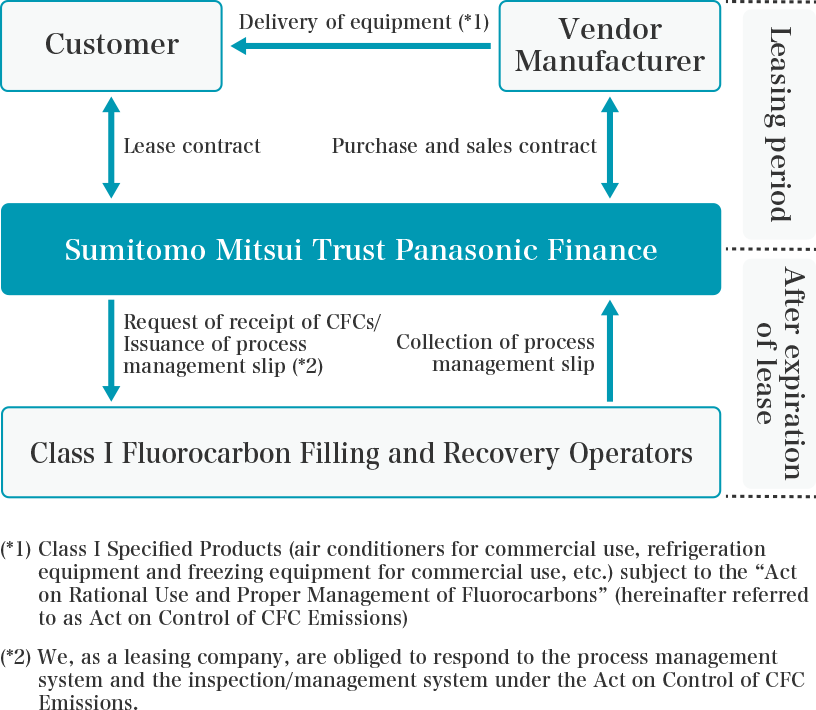 Major CFC-free equipment

2. Support for measures against climate change
Sumitomo Mitsui Trust Group recognizes that addressing climate change problems is an important issue to establish sustainable society and is engaged in solution business that helps to solve climate change problems. We are supporting introduction of energy-saving equipment and renewable energy in public and private facilities, promotion of thorough energy saving by leasing and various finance menus.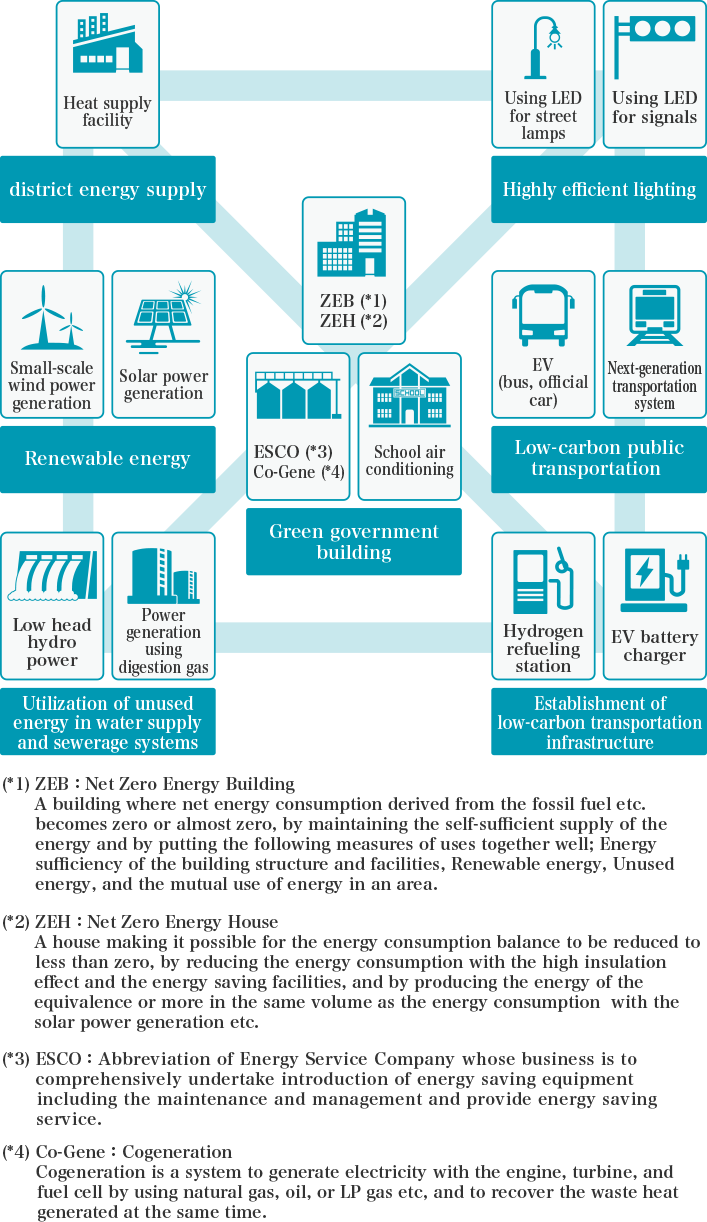 3. Reduction of waste by promoting reuse and recycle of PC
PCs used by our customers through leasing and became unnecessary are collected from all over Japan to two Lease Up Centers (Tokyo and Osaka) of our subsidiary, Japan Machinery Leasing and Sales Co., Ltd. and sorted into products which can be resold after restoration (reuse products) and products which cannot be resold.
For reusable PCs, all the data is completely deleted to ensure impossibility of data restoration, and inspectors carefully check function of the PCs one by one. Then, once they are restored to operational status, they are sold as used PCs.
At the same time, for PCs which cannot be reused, their data is completely deleted, and reusable parts are removed and sold to parts companies.
Only remaining parts which cannot be reused are properly disposed of by requesting to the (qualified) industrial waste disposer which is partner company of Japan Machinery Leasing and Sales Co., Ltd..
Other
Energy saving by adopting a roof sprinkler system
Japan Machinery Leasing and Sales Co., Ltd. is making efforts on energy saving by introducing a simple "roof sprinkler system" on the roof of its Lease UP Center at Edogawa-ku to improve indoor heat environment through watering and circulation of stored rainwater during summer.
Proper disposal
Japan Machinery Leasing and Sales Co., Ltd. has established its own rules of conduct (compliance rules of conduct) to ensure proper disposal of equipment which has reached the end of its lease period according to the Waste Management and Public Cleansing Act and other related laws and regulations.
List of pages related to company information